<![if !vml]>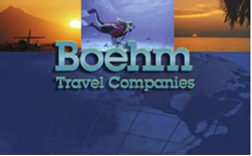 <![endif]>
Boehm Travel Companies provides secure online access to your personal travel profile 24hours a day, 7 days a week, year round...
Enabling global accessibility to your travel profile using an internet browser
Secure connections to ensure the protection of your information
Providing direct control of the reference data used to confirm your travel arrangements
Click the Boehm Travel Companies image above to get started
New users: You will need your CORPORATE ID before accessing the profile link.
If you previously maintained your profile via our online access, please contact Boehm Travel for instructions to activate your profile in ProFILER Express.
If your company uses our online booking tool, MyBusinessTrip.com, please contact your office administrator for information on completing your profile.
Once your login has been validated you will be presented with a secure site allowing the entry of all pertinent travel data. You may enter all your information prior to clicking the link to "Save Changes". You must save all changes to ensure that your profile information is correctly entered into our database and available for the travel counselors.
Retain the following for future profile updates: User Name, Password, Corporate ID and Secret Answer. Your "Secret Answer" will be used to reset your password if needed. Boehm Travel does not have access to passwords.
We hope this access will provide greater freedom to control your travel preferences, club memberships, etc. However, we are always happy to execute profile changes on your behalf... simply advise your travel counselors via phone or email.
If you have any questions, or require assistance with access to this service please do not hesitate to contact Boehm Travel Companies Client Services at 770-931-5500.
Thank you... it's our pleasure to serve you.
Boehm Travel Companies